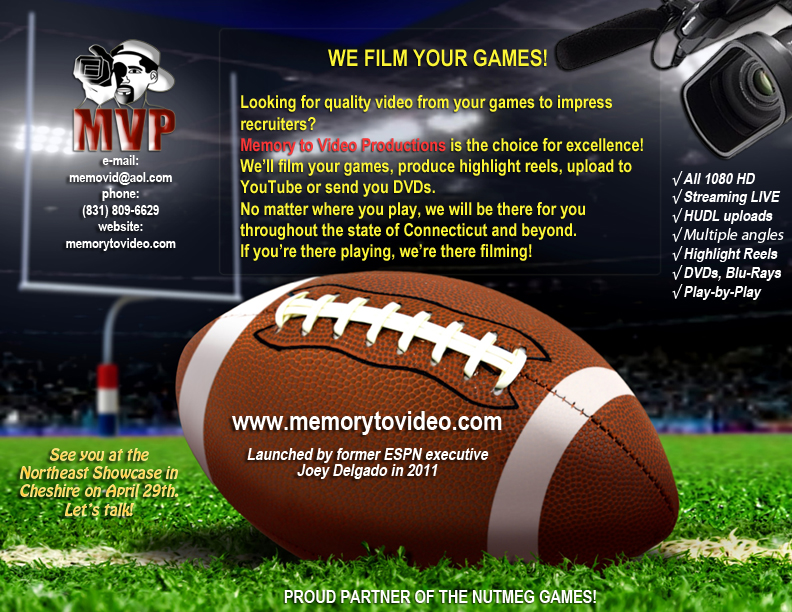 From pee wees to pros and coast-to-coast, Memory to Video Productions has filmed and live-streamed games for thousands of clients over the years. From coaches to parents to providing coverage for other companies, MVP has been there when needed.
We'll film your game from opening kickoff to final buzzer, upload the entire event to a website of your choice and/or build you a personal highlight reel to wow the recruiters you're hoping to impress. Our highlight reels tell the story you need to be told. The reel is an important step and investment in your student-athlete's life. We take that seriously.
All of our equipment is state-of-the-art. We can cover your entire season, regardless of where you play. Our shooting style is customized for each client, whether it's the all-22 style, line focus or isolations. We'll even upload your games to Hudl for you.
Our signature style, honed and preached by MVP owner Joey Delgado of ESPN, features a complete view of the lines and closeups when the action demands it. Whatever position the athlete may be playing, we know exactly how to film it and show it with both the context that recruiters require to evaluate decision-making processes and the closeness to show the detail of every move they make.
Fast turnarounds, great shooting, superior editing and we'll work within your budget. Call or text – (831) 809-6629.
A few samples below …
HIGHLIGHT REEL
YOUTH FOOTBALL
GAME FILM